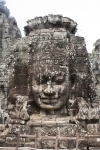 4 day private tour Angkor and Siem Reap area highlights (recommended!)
This 4 day tour shows you the best of Angkor and the Siem Reap area. You will visit all important temples and also learn about Khmer culture and history. This tour had great variety. You will see old temples, beautiful nature and a traditional Khmer village. Also you will learn about Cambodia's turbulent past in the landmine museum.
(Prices are for one car that can take up to 4 people or one van that can take 10 people. Driver included, tour guide optional).
Day 1: Car with driver 50 US$ (for your whole group)
(After your breakfast to sunset )
· North Gate of Angkor Thom City
· Preah Khan temple
· Neak Pean
· Ta Som
· Banteay Srey (finest of the Khmer carving )
· Kbal Spean
· Land mine Museum ($3 Entry) very interesting!!!
· Palm Sugar Village.
· Banteay Samre
· Sunset at Pre Rup
For Kbal spean temple will extra charge 10US$ for whole your group.
Day 2: Car with driver 40 US$ from Sunrise (for your whole group)
(Start from sunrise to sunset)
· Angkor Wat (Sunrise with breakfast boxs)
· Angkor Thom city (Bayon Temple )
· Baphuon
· Phimeanakas
· Royal Palace
· Terrace of the Leper King
· Terrace of the Elephant
· Prasat Suor Prat
· Chau Say Thevoda
· Thommanom
· Ta Keo
· Ta Prom (Tomb Raider Jungle temple ..,)
· Banteay Kdei
· Prasat Kravan
Day 3: Car with driver 80 US$ ( whole for your group)
(After your breakfast to sunset)
· Beng Mealea (A jungle temple around 70km)
· Rolous Group temples including:
· Bakong,
· Preah Ko
· Lolei
· Kampong Pluck (floating forest, boat trip fee is not included!)
Day 4 : Car with driver 105 US$ (For your whole group)
Kok Ker is the remote temple it around 100 km from Siem Reap. It is really beautiful pyramid shaped temple and quiet place. Nearby Kok Ker temple we do have more than 8 temples that we can drive to visit. If you do this tour separate from the 4 day tour, we do recommend you to visit Beng Melea temple on the way to Koh Ker. It is a very beautiful jungle temple.
Prices for this tour are for one car that can take up to 4 people. A tour guide is optional. It is also possible to do only a part of this 4 day tour. For example only day 4 or only day 1. The prices for the separate days are mentioned in the itinerary. The tour can be changed to suit your wishes as well. Please don't hesitate to contact me to talk about your wishes. We would love to arrange your perfect tour.
What is included in this tour:
A private car and driver
Refreshments
Transfer from airport to hotel and from hotel to airport
Breakfast at Angkor Wat
Not included in this tour:
Other meals
Entrance fee to Angkor National Park. The fees are as follows:
1. One day $37 (Photo required)
2. Three days visit per one week validity $62 (Photo required)
3. Seven days visit per one month validity $72 (Photo required)
For this 4-day tour you will need a 3-day pass. The driver will stop at the Angkor entrance on the first day to buy the passes. A photo is taken at the ticket booth so you don't need to bring one.
Entrance to the landmine museum US$ 3 per person
Entrance fee for Koh Ker US$ 10 per person
Entrance fee for Beng Mealea US$ 5 per person
Boat hire at floating forest
Optional tour guide