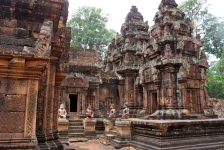 Grand tour + Banteay Srei
Banteay Srei is also called the Lady Temple because the carvings are so detailed and delicate. It's like a lady hand has carved it. The temple is located a short 30 minute ride from Siem Reap. You will see a bit of the country side along the way. It's a good idea to make most of your time in Cambodia and combine the grand tour with a visit to this beautiful temple.
On your way to Banteay Srei you will pass the Palm Sugar Village and Landmine museum. Ask your driver to make a stop here if you wish.
Entrance to Banteay Srei is included in the Angkor day pass. The prices for this pass are as follows:
1. One day $ 37 (Photo required)
2. Three days visit per one week validity $ 62 (Photo required)
3. Seven days visit per one month validity $ 72 (Photo required)
Banteay Srei, Angkor Wat, Angkor Thom (South Gate, Baphuon, Leper King Terrace), Preah Khan, Neak Pean, East Mebon, Ta Som and Pre Rup.
Optional: Palm Sugar Village and Landmine Museum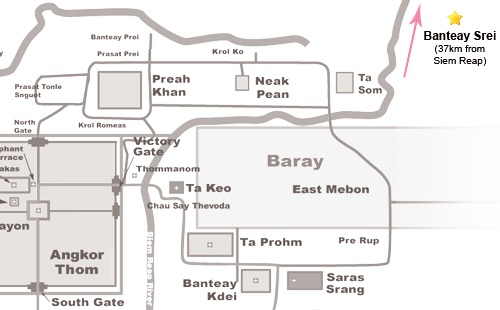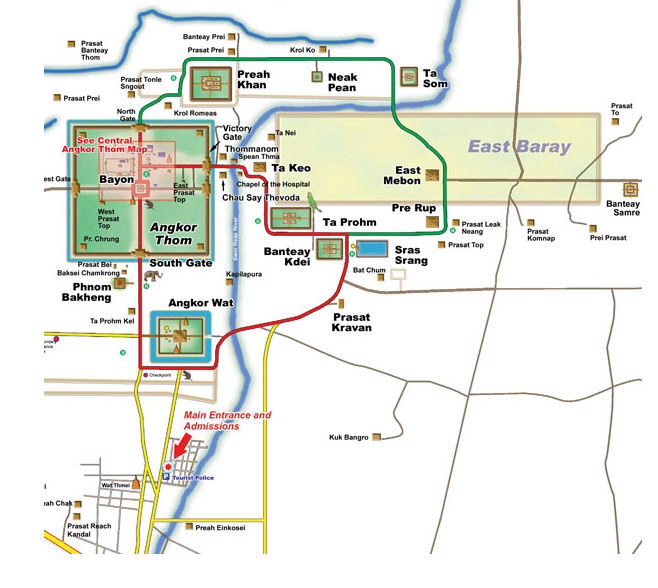 The green line shows the grand tour