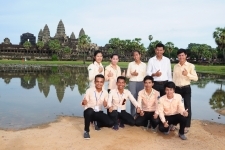 Hire a licensed guide!
A guide can teach you everything you like to know about the ancient temples. Our guides are all licensed and therefore allowed to guide you inside the Angkor temple area. We ensure you get the best quality guides.
Our English guide for example studied English at university and after that was trained and licenced by the Ministry of Tourism. He has several years of working experience at Angkor and speaks excellent English.
We can provide guides in almost every language.
The prices are as follows:
We provide guides for example for the small tour, grand tour, Kbal Spean, Beng Maelea, Phnom Kulen and Koh Ker. It is also possible to book a custom tour with a guide or even somebody that will guide you during multiple day trips.