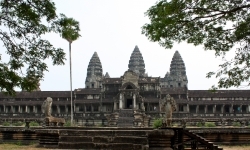 Relaxed 3 day temple tour
Visiting temples can be quite exhausting. Take it easy with this 3-day temple tour. At a slower pace you will visit all the famous temples of Angkor that are also included in the Small tour and Grand tour + Banteay Srei. You can take as much time at the temples as you like, no rush. There is also time to upgrade this 3 day tour with a relaxing massage or other spa treatment at the end of the day.
Prices are for the total 3-day tour.
Included:
Driver
Cold bottled water
Transfer from airport to hotel and from hotel to airport
Not included:
Tourguide
Angkor day pass
The fees are as follows
1. One day $37 (Photo required)
2. Three days visit per one week validity $62 (Photo required)
3. Seven days visit per one month validity $72 (Photo required)
Day 1
- Prasat Kravan
- Ta Prohm
- Sras Srang
- Banteay Kdei
- Ta Keo
- Victory gate
Day 2
- Angkor Thom (South gate, Bayon, Baphoun, Leper King Terrace, Terrace of the Elephants)
- Angkor Wat
Day 3
- Preah Khan
- Neak Pean
- Ta Som
- East Mebon
- Pre Rup
- Banteay Srei
You can spend the afternoons as you like. For example have a nice swim at your hotel or go shopping in town. It is also possible to take you to a spa or museum.