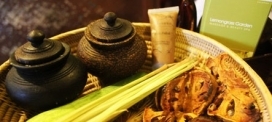 Temples, museum and spa tour
This tour combines the most prominent temples with a leisurely stroll at the Angkor National Museum and a divine spa treatment.
After breakfast our driver will pick you up and take you to Angkor Wat and Bayon Temple (famous for the 200 faces carved in stone). These temples are the finest Khmer structures dating from the 12th century. You can take your time to walk around and take photo's.
Next you will visit the Angkor National Museum. This museum is very modern (building is airconditioned) and shows over 1.300 artifacts from The Angkorian period. You will learn about the ancient Khmer civilisation through a movie and interactive exhibitions. Entrance fee is $12 per person.
Last your driver will take you to one of the best spa's in Siem Reap. You can select any treatment while your driver waits for you. We recommend you take a relaxing Khmer massage. Price indication for 1 hour massage: $10 for Khmer massage, $15 for Khmer massage with oil, $15 for Thai massage. Other treatments are also available.
Your driver will bring you back to your hotel.